UPDATE: Blue Sombrero will not accept Canadian addresses in the main field. We have developed a workaround noted in Registration Process Step 2.
For our 2016 season, MLQ will be partnering with Blue Sombrero and Dick's Sporting Goods to streamline our registration process for in-person tryouts. For specific dates, times and locations, keep an eye on your desired team's Facebook page.
If you are unable to make the in-person tryout(s) for your desired team, you can submit a video tryout. The requirements for all video tryouts–and the recruitment territory for each team–can be found here. The deadline for this form of tryout is April 27 at 11:59 pm ET.
REGISTRATION REQUIREMENTS AND INFORMATION
Those that register before April 8, 2016 at 3 pm ET will receive free SAVAGEUltimate #16for16 tryout gear. You must attend an in-person tryout to receive the gear. It will not be held for you for a later date
Online registration for each team will close at 6 pm Eastern the day prior to the team's first tryout. Walk ons will be permitted to try out, but we ask that you make a concerted effort to pre-register
Tryouts are open to all genders. Unfortunately, Blue Sombrero only permits a registrant to select "male" or "female" as their gender. Please select the one that best applies to you. We are working with the company to widen this selection in the future
Tryouts are open to all experience levels
All athletes must reside within a city's radius at least 46 days between June 1 and August 31. Exceptions can be made only through an appeal to the Commission Co-Chairs
All athletes must be 18 or older by June 1 in order to try out
All athletes participating in the 2016 season of MLQ must have personal healthcare coverage. You will need to have your insurance card handy during the tryout registration process
REGISTRATION PROCESS
Step 1: Register for an account on Blue Sombrero: http://leagues.bluesombrero.com/default.aspx?portalid=10852 or http://leagues.bluesombrero.com/Default.aspx?tabid=915253 (click "Register" on the top right of the screen)
Step 2: Fill out first registration page.* Do not fill out guardian info. Hit "Continue." 

*Canadian players will need to enter the following in the main address fields: 208 Western Ridge, Wood-Ridge, New Jersey, 07075. Then enter their actual address in the Address (Canada Residents Only) field later in the process. They will also need to enter "N/A" in the insurance fields.
Step 3: Select "I am registering myself in an activity."
Step 4: Make sure primary account holder is set to "Yes."

Step 5: Double check that all the info on this page is correct. You'll need to enter your "Date of Birth." Next, hit "Continue."
Step 6: Find the division where the team you plan to try out for resides within. Hit "Register."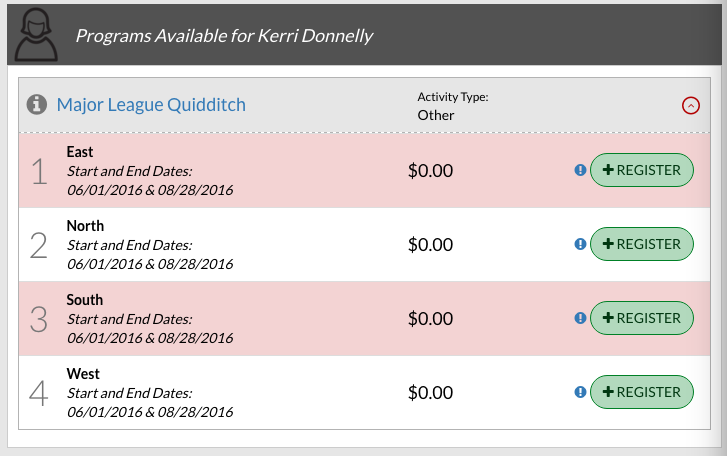 If you are unsure which division your preferred team is located within, you can scroll over the little blue ! and you will see a list of available teams.
Step 7: Fill out the information on the registration page. You will need to have your insurance card handy as that information is required. When you're done filling out this page, hit "Continue."
Step 8: Check that your information is correct and hit "Continue." Your tryout fee should be $0.00.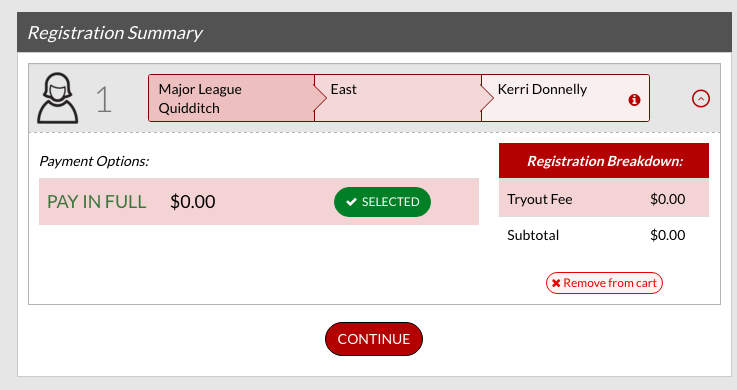 Step 9: Payment info is not required, so just hit "Continue."
Step 10: Check one last time that your "Registration Breakdown" is correct and hit "Continue."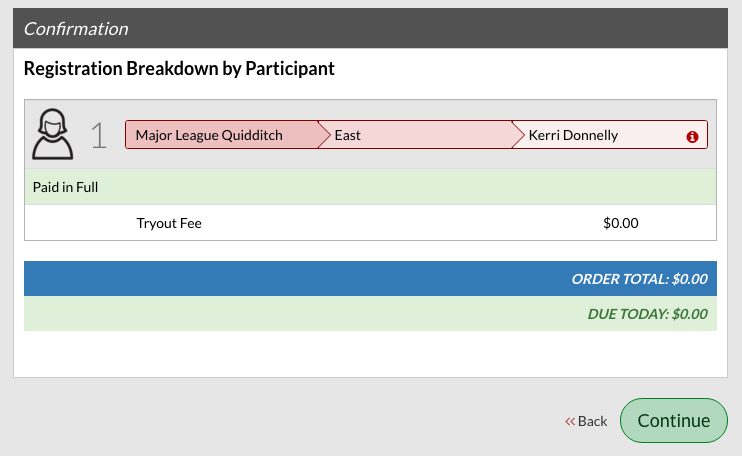 Step 11: Congratulations! You've successfully registered for your local MLQ team tryout! Keep an eye on your team's Facebook page for exact times, dates and locations.