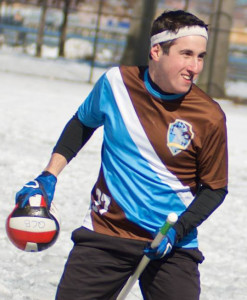 Today, I am honored to have the opportunity to announce the beginning of Major League Quidditch to our community. MLQ has been nearly a year in the making, and there is a lot to fill you all in on and a lot of people to give credit and thanks to.
But, as I once again have the chance to make a major announcement, I can't help but to think about others I have made in the past and the purpose behind each.
When I announced the Massachusetts Quidditch Conference all the way back in 2011, it was because I felt there was a need for a format of competitive play outside of tournaments, especially for teams grouped into a small geographic area. When I announced the creation of The Eighth Man in 2012, it was because I saw a need for critical, informed analysis within our sport, a move from blogs to an organized, structured website. Each time I've helped to introduce a new concept to the sport, it has been to fill a niche that was previously empty. Many of the decisions I helped to make as a member of the USQ Gameplay Department followed the same theme.
So what niches does MLQ fill? First of all, it's important to make it clear that the league fills a completely different niche than the USQ regular season. The USQ season is an inclusive, freely-structured, combined school and community team league that runs through the fall, winter and spring. MLQ is an exclusive, firmly-structured community team league that will span the summer months, during which no official USQ games have ever been played. It is very important to all of us that MLQ in no way steps on the toes of USQ, and we will work hard to ensure that going forward.
The first major thing we hope to accomplish is to bring competitive quidditch to the summer season. Currently, the four months of the best weather of the year are unavailable to competitive quidditch. This is an even tougher pill to swallow when living in an area of the country with a real winter, where the last three months have gone more or less wasted by snow and cold. While fantasy tournaments are valuable commodities for community strengthening and skill development, they are far from marquee competitive events and seem to be drifting further away from that function each year. We understand their importance, and will schedule our season around major fantasy events, as well as Global Games in the years when it occurs, but we think our sport can get something more out of the summer months.
The next major goal for MLQ is a highly standardized league. A necessary evil to the size and inclusiveness of the USQ season is that it's impossible to run in a completely orderly manner. Everyone plays a different number of games with rosters that are usually misleading and referees and snitches of widely varying skill. Tournaments regularly face major last-second drops and official matches are frequently cancelled. There is no standard for filming, and thus there are no standardized stats, leaving us in the stone age analytically.
MLQ hopes to change all of that. Each team will play a full round robin set of three-game matches against the rest of its division over the course of the season for a total of nine regular season games. Accurate rosters will be required in the lead-up to each match. Home teams will have to record all matches and release the film in a timely manner, at which point our Statistics Department will mine the film for data, leading to the most complete statistical analysis our sport has ever seen.
So let's get to the details. MLQ is a league of city-based community teams that will run from June through August. The inaugural, trial season will feature eight teams: New York, Boston, Washington DC and Ottawa in the East Division and Rochester, Cleveland, Detroit and Indianapolis in the North Division. Rosters of 30 players who will spend in the summer in the metropolitan area of their team will be compiled before the season, and 21-player rosters will be submitted for each match. Rosters will be built through a combination of in-person tryouts and video tryout submissions for those that are not yet residing in their chosen team's city.
Following their round-robin sets during the regular MLQ season, which spans from the first of June to the end of August, all eight teams attend the MLQ Finals in mid-August. The finals will be a single-elimination tournament with cross-division seeding in the first round.
We will be working with the International Referee Development Program (IRDP) to provide referee staffs for all of our matches. The IRDP has done incredible work with quidditch officiating across the world, and when I went about creating this league, there was no question that I wanted them to be involved. I'm humbled that they have agreed to work with us, and look forward to helping to bring their organization to the American market.
Obviously, MLQ will not be a true national league in its first season, and we realize this will be frustrating for many people. But the logistics of such an undertaking are rather sizeable, and we wanted to make sure we set up a good foundation of resources and leadership before biting off more than we could chew. If our trial season is successful, look for us to add South and West divisions in 2016 and then expand to up to 20 total teams in 2017.
We also realize that any quidditch league or tournament that requires travel can be a financial burden for the player base, and it is our goal to do all we can to minimize that. Through our sponsorship agreement with Savage Apparel, we will be able to bring our teams heavily discounted uniforms that will give the league a professional look without a major hit to players' wallets. We are also seeking location bids for the MLQ finals that will make the price of putting on the event as low as possible, and thus keep our player fees down as well.
However, one place we will not be cutting costs is with the payment of our gameday staff. We understand that in our model, referees and snitches will have to travel just like everyone else, and we want to create an incentive that gets us the highest-quality staff possible. To do so, we will be paying head referees the standard $20 per game, but also be paying assistant referees, snitch referees and snitches $10 per game each.
There are a lot of people to thank for getting us to the point we are at today. I want to thank the countless people who have listened to my pitch and help me morph and mold it into the league we are announcing today, your time did not go unappreciated. I want to give a massive thank-you to Amanda Dallas, whose logistical work went a long way in making an idea a reality. To our eight incredible managers: You will be the ones driving these teams, and there is no one that I'd rather put my faith in to do that, so thank you for your efforts. And to the rest of our staff, and the staff that will be joining us shortly: We've got a long road ahead, but I'm confident we can make it happen.
But the biggest thank-you I want to give is to the quidditch community at large. We've laid out a model, and I truly believe we've put together the ideal scenario to make a league like this succeed in the current state of quidditch. We have the resources, the staff and the support, but the league only works if all of you buy into it. Nothing in quidditch is a sure bet, and we're putting our faith in you to help make our dream a reality. So look around our site. Ask questions. Talk to your local managers. Message us. Critique us. Help us make this the best league it can be. We know we're new to this, we know we'll make mistakes, but we want to do what we can to make things as ideal as possible.
This summer, we have the collective chance to push quidditch into a place its never been before. To begin a sustainable, standardized, competitive league that will usher in a new era of how our sport is perceived. Thank you for your time and for your consideration. I'll see you on the pitch.
Sincerely,
Ethan Sturm
Commission Chair, Major League Quidditch