While MLQ has expanded its reach to include the South and West this year, there are still plenty of quidditch players and fans that can't make it to an MLQ match series this summer. But that doesn't mean you have to stay on the sidelines.Thanks to the rise of livestreaming, fans from all over can tune in to watch their favorite Night Rider or Legend from the comfort of their own couch.
Here's how to fight the MLQ FOMO* and host your own MLQ Championship Viewing Party:
*Fear of Missing Out, for those not fluent in teen-text acronyms
    The Menu, the Venue, the Seating
If you are an active participant of the 21st century, chances are you have access to the Internet. Well, guess what…that's literally all you need to host a viewing party at home. Just sign into the MLQ Livestream account, wait for an email to trumpet the start of a match and enjoy! You can even grab a brewski or zap a plate of nachos between those three steps if you are so inclined.
Of course, if we're going to turn MLQ Championship Weekend into the Super Bowl of the summer, we should probably think a little bit bigger. First of all: bigger screens. Ditch that 13" laptop and connect to your flat screen.
It's actually really easy to upgrade: most TVs are outfitted for HDMI computer hook-ups, and both Roku and Apple TV have Livestream apps. This way, you don't have to worry about spilling your drink and short-wiring your computer as you flail around yelling at your seeker to catch the snitch.
    You Don't Get a Win Unless You Play in the Game
Just because you're not lacing up your cleats to take the pitch doesn't mean you can't play along at home. The rules of the game just may change a little. With the right attitude, you can turn anything into a competition. Gather your friends and agree on some ground rules. Look to The Buff Geek's watch-tv-workouts for inspiration. For example: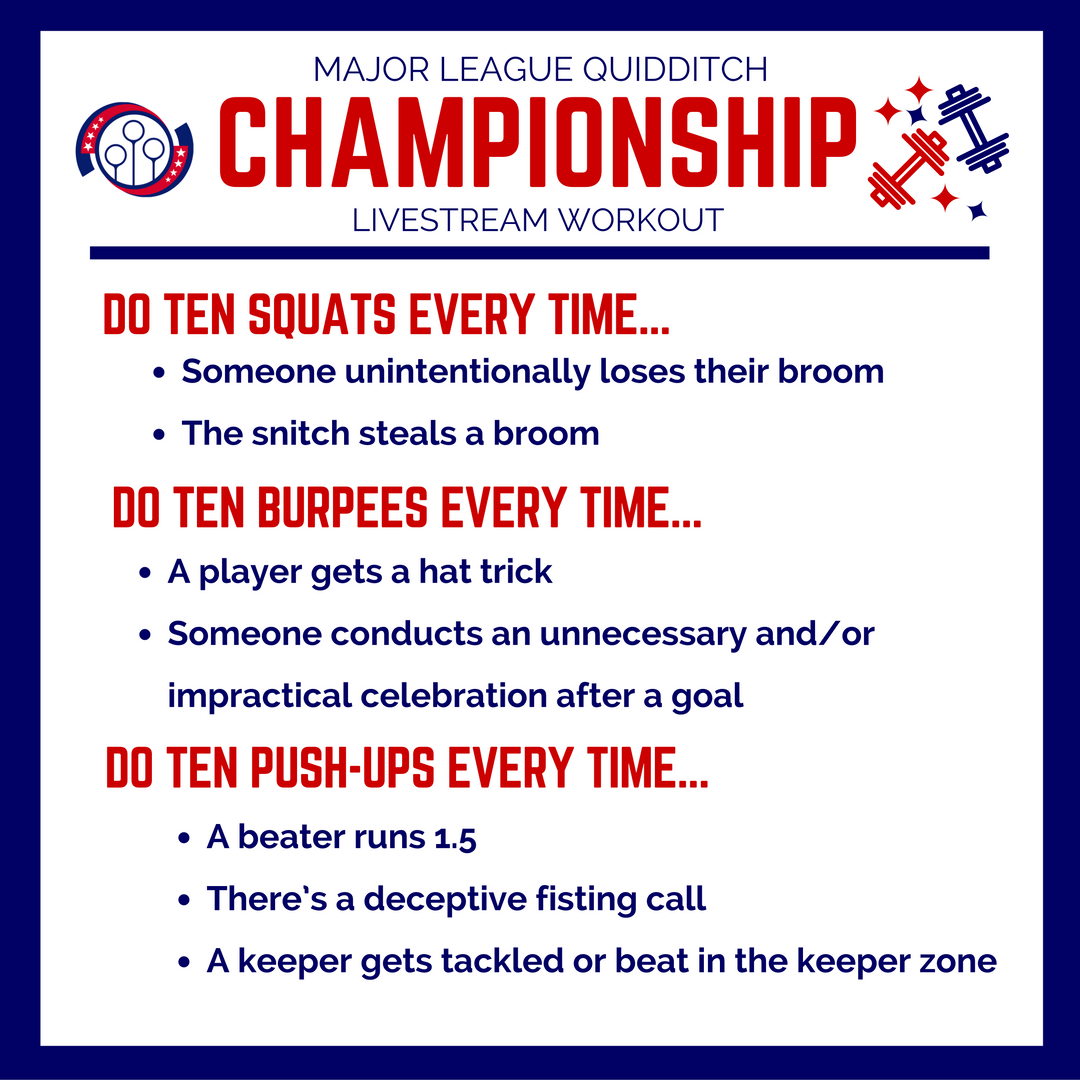 You can even add extra punishments when your rivals score, and rests when your team makes the board! Really the list can go on and on, but probably shouldn't if you want to stay alive the entire series.
You can also raise the stakes by following your Fantasy team and Pick 'Em scores.
    These Tweets are Non-Stop!
No one wants to be that person at the party with their eyes glued to their cell phone but, in the case of an MLQ Viewing Party, half the fun will be found on your twitterfeed. Follow MLQ and its teams on Twitter to engage in the games with live tweeting, score updates and more! Also, social media is a two-way street, so send us pics and updates from your own viewing party so we can be part of the fun!
And, of course, don't forget to hashtag: #QuidGoesPro #16for16 #MajorLeagueParty